Winter Tips from Ability Property Services
With Winter approaching and the weather starting to get colder, it's time to make sure your premises are in good condition when our Irish winter strikes! Ability Property has come up with some tips to help keep your business in tip top shape this Winter.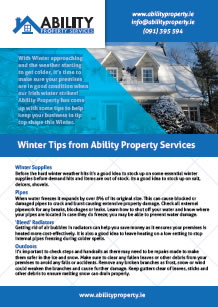 Winter Supplies
Before the hard winter weather hits it's a good idea to stock up on some essential winter supplies before demand hits and items are out of stock. Its a good idea to stock up on salt, deicers, shovels.
Pipes
When water freezes it expands by over 8% of its original size. This can cause blocked or damaged pipes to crack and burst causing extensive property damage. Check all external pipework for any breaks, blockages or leaks. Learn how to shut off your water and know where your pipes are located in case they do freeze; you may be able to prevent water damage.
'Bleed' Radiators
Getting rid of air bubbles in radiators can help you save money as it ensures your premises is heated more cost-effectively. It is also a good idea to leave heating on a low setting to stop internal pipes freezing during colder spells.
Outdoors
It's important to check steps and handrails as there may need to be repairs made to make them safer in the ice and snow. Make sure to clear any fallen leaves or other debris from your premises to avoid any falls or accidents. Remove any broken branches as frost, snow or wind could weaken the branches and cause further damage. Keep gutters clear of leaves, sticks and other debris to ensure melting snow can drain properly.